Equine Experiences
We offer the opportunity to experience the powerful and life-changing moment of true connection with self and others, working with horses.  At the bottom of the page are our workshops,  Register today!
Horses are 100% focused on the present. They don't dwell in the past or worry about the future.  Just being around them can help us slow down, focus and become present and attuned to ourselves, our environment and those in our circle of influence.
Understanding how to communicate intention, while motivating and setting boundaries with a 1200 lb animal, will help teach a healthy and calm way to approach conflict, and gain greater respect and cooperation.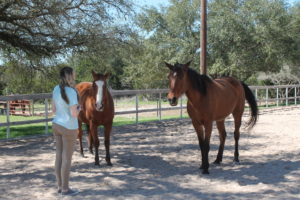 Since 90% of our communication is non-verbal, it is necessary to learn the art of tuning in to those around us. Since a horse responds mostly to non-verbal communication, participants learn how to tap into this important skill.  We utilize life principles in a non-judgmental environment with instant feedback from a horse with no agenda!
Group, Family and Individual EAL
No previous horse experience is necessary; activities do not include horseback riding. Register here: