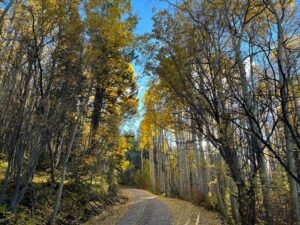 "I'm doing pretty well all things considered. I'm sad that it's this way, but feeling empowered at the same time. I appreciate you being here for me. Your help and insight has been invaluable. Thank you!" – TI (Client Going Through Divorce Process)
"The first time I met Kelly and visited South Wind Equestrian Center in 2017 I could feel the peace that she brings to relationships and the healing that is performed by the work she does. When our paths crossed again and we began to discuss working together I knew it was an opportunity not to be passed up.  Working with Kelly has been one of the highlights of my career. My name is Hannah Tollefson and I am a Licensed Professional Counselor. I partner with Kelly as the equine professional in the equine assisted mental health services that we provide as a team to clients. Kelly's expertise and knowledge in working with horses to help humans heal is unmatched. The role of an equine professional during mental health sessions is to support the equine partner so they remain safe and connected throughout the session. Kelly's ability to connect with horses is unlike I have ever experienced. Her insight into what the equine partners are experiencing in any given moment and the way she gently communicates this within the session provides a safe space for the client to begin the healing process through gaining awareness about self and relationship patterns."
"Kelly has a magical way of being a mirror into your soul. Kelly is able to tap into the essence of who you are even if you've lost sight of who that person is, while gently guiding, making space, and providing work to help guide you back to your true self. After a lifetime of trauma, Kelly has helped me get to the root of many of the things that have held me back in life and relationships, and for the first time, I am seeing my true potential and healing old wounds that didn't allow me to grow or move forward. Through guided meditation, talk therapy, and goal setting, I have made more progress with Kelly in the last six months than I've made in a lifetime of work on my own. I am forever grateful that I found Kelly and cannot speak highly enough of her gifts." -Carol 
"What a wonderful place to find you inner peace. Kelly and her horses are amazing and help to show you your true self." – Tiffany
"This is an awesome place that is run by amazing people. The owner is incredibly gifted and talented! What a gem!" – Mike
"I've known Kelly for many years and I reached out to her for help prior to and then during a difficult divorce. I was being pulled in so many different directions…mom, wife, friend, employee, believer, sinner. I was always doing something and not really taking care of myself. I said yes to too much and never left enough margin to just rest. She gave me freedom to walk the labyrinth and to just be with the horses. She helped center my thoughts and focus on what God was saying, what my body was telling me. Through this I was able to connect more deeply to God and to who I truly was. After just the first session at Unbridled Connection, Kelly was able to help me tap into myself, the me that had been stacked underneath years and years of life and trauma. After another session or two, I was able to crawl out from underneath that stack and make choices that had been sitting in front of me for a long time, but I wasn't able to see clearly until that moment. Clarity is such a wonderful thing! I realized that I had been in a fog from heavy emotional abuse and control for over a decade and now I saw the truth. I felt a peace that I've never felt before as Kelly explained a lot of science on how our brains and bodies process trauma and then shared how to work my way out of it. Kelly is patient, kind, giving and full of knowledge. I don't consider myself a victim anymore…I'm a survivor!" – L.B.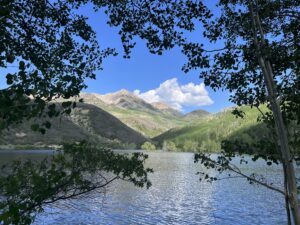 "Yesterday I received the gentlest, and most authentic healing session with Kelly Smith Jones and her horse Summer.  I am amazed at what I was shown by the sweetest spirit, Summer. I gained a different level of presence in my time with her, of being in my body, and having my brain online too. I easily get caught up in my thoughts in life- like most people. Horses are so amazing.
Kelly was an excellent guide for me, helping me to understand why Summer did different movements, or why she didn't. I was shown how differently she responded to me when I wasn't doubting myself. I can't put to words how insightful & wonderful it was. Summer & Kelly both were authentic & loving way-showers. 
I left my session feeling light, energized, totally wowed & grateful. Summer was so special to me yesterday. I have so much to learn by connecting to animals!! I hope this touches someone that is looking for support or a fresh perspective, and that you can find it with the horses & Kelly 
" – Casie
"My daughter began horse therapy during a very difficult time. She was experiencing sleep deprivation, severe anxiety, fear of eating due to horrible bouts of IBS, and her daily life was a struggle in almost every way. The first few sessions definitely helped alleviate some of the difficulties she had been experiencing, but it took consistent weekly sessions for the changes to really begin to transform her life. She began to trust again. To take risks again. Her sleep improved. Her anxiety lessened. She began taking more risks with food, even with the fear of her body reacting badly. Step by step she embraced the teachings from the horses and from Kelly. Her body and mind relaxed, and she began smiling again. She looked forward to her weekly sessions and began talking about the future. Her transformation was beautiful in every way and I am so grateful for Kelly, her skills, her compassion, her empathy, and her kindness. The horses became amazing teachers and companions to my daughter. She bonded with Rumor and talks of him fondly. We were so impressed with horse therapy and Kelly's approach to people, horses, and life– that we plan to go visit Kelly in Colorado at her new ranch. 5+ star recommendation!" – G. R.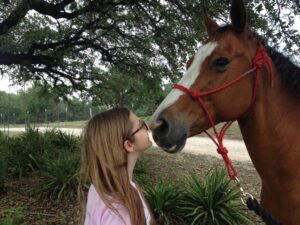 "We are deeply grateful for the therapy that your center provided for our daughter at the end of last year. I have seen my daughter grow in confidence and self assurance. After her time with you, she used her new skills to forge a path to volunteer work at a local horse therapy center near our home. She initiated contact, made phone calls and worked her way through a new situation that for her would have normally produced large amounts of anxiety. She was able to push through and has overcome situations that would have caused her to shrink back in the past.  Her success continues to hinge on what she learned at South Wind Equestrian Center.  Overall she is kinder to herself and able to navigate more situations with self awareness and grace. Enclosed please find a painting she did entitled 'Overcoming'.  May God continue to bless your Center with many stories of healing and hope." – Sofia S.
"I have been blessed to attend a few of Kelly's Mindfulness retreats over the last few years, and I absolutely LOVE what she is able to do in just a short amount of time!! Participating in her retreats have truly helped me reset my body, mind, & spirit. Being immersed in the wondrous beauty of nature while working with the horses is incredible and life-changing! Her retreats have provided a safe space for me to participate in several different creative, rhythmic, relaxing, and mindful activities that allowed me to wake up my senses and be present in the moment, to learn how to regulate my emotions better, to reconnect with myself and set realistic goals for my future. I always feel so much better after her retreats, and I have learned various mindfulness exercises that I continue to use to help regulate my emotions during stressful moments in my life. Overall, I am so much less anxious than I used to be and I am consistently more present and patient with my spouse and children. Thank you Kelly, for teaching me how to live life to the fullest in every moment of each day." –  Kelley H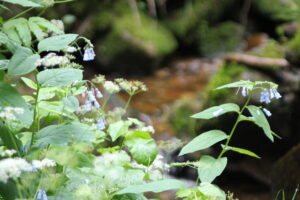 "While I have known Kelly Jones for less than a year, she has certainly made an impression on me with her profound knowledge and integrity to the art of healing with horses. I've personally attended her intensive retreats and can attest her unique gift to nurture, hold space and challenge attendees to greater levels of presence and awareness." – Chaitali P,  Director of Programming, Miraval Resorts
"It has been really lovely getting to know Kelly and watching her open, soften, and trust throughout this course. Kelly is truly a self-directed learner who takes initiative! Kelly is also very passionate about doing good work in this industry, and I know as long as she stays open and receptive, and keeps learning, growing, and
adapting she will embody her ideals in everything that she does! It has been a delight to walk beside Kelly on this journey, and I look forward to our paths crossing again in the future." – Leif Hallberg, Masterclass 2020
"God sent me to the best angel He knew would have the greatest healing  I could ever ask for. He sent me to South Winds Equestrian with Kelly. What a wonderful experience. She opened my mind, my heart and my spirit with Assisted Equine Mindfulness Work. She helped me experience healing from my childhood traumas! I no longer have scary night visions! The horses taught me how to be present to the truth and not to listen to my spinning mind. After four sessions with Kelly, I have made leaps and bounds to healing because of Kelly's expertise and compassion. She is a joy and a gift! God bless her new Colorado home! She has left a beautiful path of a grateful and stronger spirit behind." L.C. client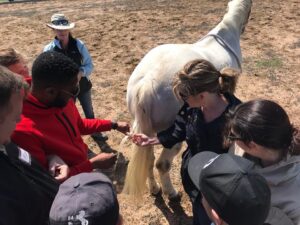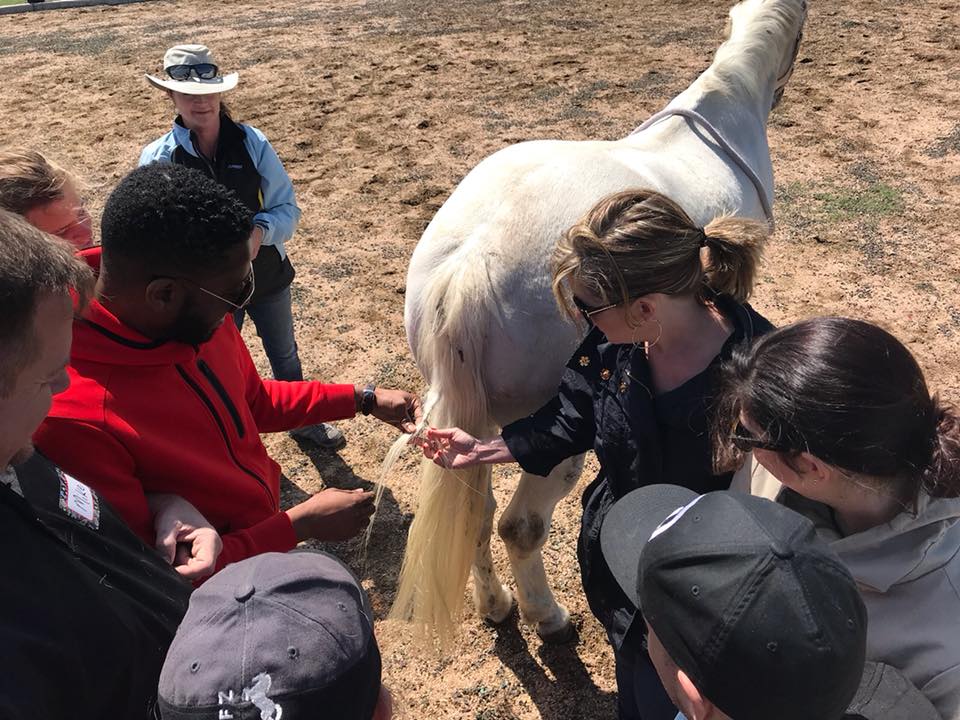 "I worked for Kelly at a resort on Lake Travis near Austin. She managed our equine department and a herd of 12 horses. It took me a few weeks to truly grasp the concepts she was teaching me, but once I did the affect it had on my own relationships with our horses was instantaneous. As my relationships with the horses began to grow, the concepts Kelly was teaching me, such as "asking through release" when one of our particularly untrusting horses didn't want to be caught, began to shine through. By the end of my tenure at the Retreat, I'm proud to say that with Kelly's mentorship, our most untrusting horse, was the first one to come up to me every day. Kelly's ability to teach, no matter the situation is top notch and has lasting effects.
Through all of this she opened my eyes and showed me a whole new world of not only working with horses, but also allowing me to add to my knowledge of helping people through crises. We would do training at her facility and it was clear to me that the connection she had with her horses was incredible. She was able to take two of our other staff members, who had limited equine experience, and provide them with an eye-opening experience using her equine therapy techniques and teaching me what to look for and recognize in the process. This allowed us to successfully host an equine assisted therapy event for veterans and their families at the Retreat, without having her on site, that all of our guests raved about and we were able to help them take the first step towards healing.
Kelly has an enormous amount of knowledge and is extremely passionate about helping others and providing mentorship to those who want to learn. Despite the challenges of her having to work remotely with me, she was always willing to provide leadership in any way that was necessary and I never doubted that she had my back when I had to make time sensitive emergency decisions. Kelly is far and away one of the best horsewomen, leader, mentor and friend that anyone could ask for, and I would happily work for her again in a heartbeat. " – Matt B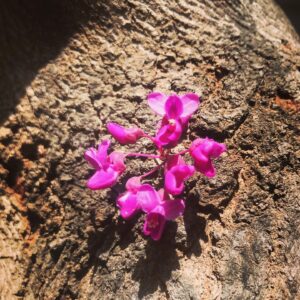 "Kelly you are truly gifted with connecting with horses and teaching that to others.  I am looking forward to continuing my journey with horses.   Your facility is the most relaxing place I have ever been to and the caring , calm spirit that surrounds your place is so good for my soul." – S.A.
"My name is Julie and I am a PATH International Therapeutic Riding Instructor. I was blessed to meet Kelly in October 2019 at a Natural Lifemanship Conference. She was immediately easy to talk too and very informative.   Kelly has been a wonderful mentor to me. She is very passionate about horses and loves to teach. Kelly is always expanding her knowledge regarding relationships, spirituality, the human brain, horses and how we connect with ourselves, horses and others. Kelly is an awesome horse woman and person. I highly recommend Kelly if you are looking for a mentor. She is one of a kind for sure." – J. Biggs
"I had the pleasure of visiting South Wind Equestrian Center at sunrise one morning. The horses were gorgeous there, with the sun rays shining through the trees. So peaceful. I think "peaceful" is the keyword that sums up the medicine I felt in the presence of the place. What a joy spending time in nature, with these magnificent animals, getting to know my Nature.Additionally, I met directly with the owner, Kelly Jones, for a documentary video project by ARISE Video Studio. She is a wonderful person, working to bring sacred ceremony and holistic therapy to men and women, with the help of horses. What an exciting offering. That is is the kind of Austin livin' that inspires me." – Cabe
"Such a peaceful place & very thoughtfully run. Kelly is wonderful!" – Crystal
"It's hard and takes a lot of courage to show up and be vulnerable, but it is worth it… even while you're kicking and screaming. It's just a safe space for healing, even when your triggers make you feel unsafe and there's a lot of power in that." – Therapy Client
"Just a short note to say Thank You so much for a wonderful day and wonderful opportunity to learn.  It was a phenomenal experience." – Survivor Retreat Participant
"Just a short note to tell you that the Mindfulness Retreat was the highlight of my year – Thank you for all of your offerings that day. It was a nurturing and well-run retreat".
"Just a short note to say Thank You so much for a wonderful day and wonderful opportunity to learn.  It was a phenomenal experience." OMG! This is the best Airbnb ever it's so gorgeous… Airbnb Guest and Retreat Participant
Our students enjoyed a most meaningful, productive experience at your ranch. Thank you so much for walking the extra mile to make this day extra special for them and us:) They truly enjoyed being with the horses and grooming them. – LISD