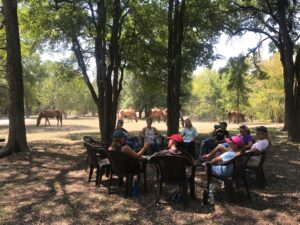 Wellness Retreats
A wellness retreat can help you learn how to quiet your mind, reconnect to your senses and your body, engaging in each moment as you experience it. Experience freedom from fear, reconnect to your true self, feel empowered and renewed, experience peace and go back into the world transformed.
Sign up soon, space is limited. 
2023 Offerings
October 14 and 15, 2023 In Bertram, Texas at Little Farma Ranch
This weekend event offers five customized Network sessions with Dr. Mary, blended with Kelly's five transformational mindfulness experiences with horses, gently and beautifully supporting each participant.
This format invites changes in your central nervous system and your soul. The horses, gifted sentient beings, guide and teach true presence, while allowing for safety and recognition of true self.
Mary engages your nervous system in an environment of growth and authenticity. Kelly will teach resourceful breathing and how to bring awareness to sensations within your body. Mary will teach your nervous system to reframe the experiences of trauma or stress as potentially beneficial sources of rejuvenation! Click here for more information and to register! 
"This weekend with Mary and Kelly was extraordinaire, combining deep
knowledge of horse interaction with improving the nervous system so that
each modality increased the effectiveness of the other. Thank you Kelly
and Mary for a memorable weekend." —MH
"The retreat was an amazing weekend full of activities and information
designed for physical and mental health and improvement. My personal
favorite was the process of using the senses of hearing sight, touch and
smell to develop a connection with the earth and energize the body and
calm the mind." -—TD
2023
An Exclusive Women's Wellness
Dates and Location TBD, Summer 2023
The role of a leader has shifted in the recent times of uncertainty and change. Adjusting to so many "new normals" and remaining forward-focused for others can seem more personally draining than ever. It may seem challenging to take the time to rejuvenate when it sometimes feels hard to take the time to breathe in a busy day.
A woman business owner recently said to me, "I sometimes feel guilty for needing some space."
If that sounds familiar at all, we are so glad that you are reading this right now.
This is an opportunity to make that time, take that space for a personal reset so that your future decisions and conversations come from your most powerful and centered place. 
BHAVA Retreat
July 2024, Location TBD
BHAVA is a Sanskrit noun describing a state of vitality, wellness, and inner peace. BHAVA Retreats offer a healing space and mindful practices that allow you to go deep within and reconnect to your true self so you can experience profound healing and true transformation.
Find your inner sense of peace and safety during an intimate weekend retreat with experienced supportive facilitators, horses, nature, and art.
Experience mindful movement, equine coaching experiences, expressive art, mindful meals, and discovery discussions. 
Life Purpose Wellness Retreat – Rediscover Joy and Purpose
Summer 2024, Location TBD
Life on Purpose!
A retreat to clarify your calling… and partner with horses. 
This retreat begins the journey to revealing your soul's longing.
With so much uncertainty in our world in recent history, personal longing to create a life of purpose has never been stronger and this is your invitation to step into yours.
We believe you are fully equipped to engage in the mission of your heart.
It may require more clarity, a dose of increased self-awareness, perhaps a liberation from previous beliefs and movement forward with pure intention.
We combine working with horses with personal coaching, mindfulness, journaling and art to rediscover your unique gifts and get you into focused action.
Our facilitators bring years of experience to what will be a life-changing journey.
No experience is expected or required with horses; we do not ride the horses, but work in relationship with them on the ground.  (Riding is offered as an optional activity during retreat "free time")
Why Horses?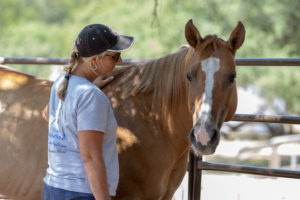 Horses do not lie.  Their feedback is instantaneous and authentic, in a beautiful peaceful and safe atmosphere, free of the sounds of civilization.  Once our clients experience what true connection feels like, their lives are transformed.
Our retreats are professionally facilitated by well-trained and experienced compassionate experts who are able to provide participants a truly life-changing experience.  Each workshop is unique! 
Currently offering wellness retreats with horses both in Western Colorado and the Hill Country of Texas.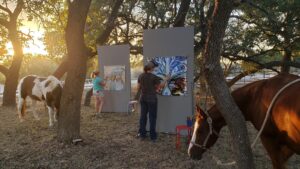 Each Weekend Includes:
Mindful Movement
Equine Assisted Coaching
Art
Breakfast/Lunch/Dinner
Free Time – Optional Activities TBD
Rhythm
Circle Up Time
Fire Under the Stars
Local Winery Tour – Colorado Location
Accommodations and Meals – Great Awakening, BHAVA and Life Purpose in Colorado
Training for the Professional
There are just some things you must learn in person, and partnering with horses to provide humans assistance along the pathway to healing is one of those things. Book knowledge and watching online videos gives a great foundation, while hands-on experience ensures the horse is always safe, the humans are always safe and the process of integrating these intuitive and gracious animals into our treatment modalities is safe and effective.
If you are a licensed therapist or an equine professional who is interested in learning how to partner with horses to provide equine assisted therapy and equine assisted learning/coaching, Kelly offers one on one weekend training opportunities that include accommodations. Kelly has been partnering with horses since 2013 to provide equine assisted mental health and equine assisted learning activities to clients. Her method is centered on the horse and listening to the horse, the intricacies of equine behavior and how to accurately translate their clear communication with humans and the importance of nature, somatic experiences and mindfulness to heal from trauma.
"My name is Julie and I am a PATH International Therapeutic Riding Instructor. I was blessed to meet Kelly in October 2019 at a Natural Lifemanship Conference. She was immediately easy to talk too and very informative. Kelly has been a wonderful mentor to me. She is very passionate about horses and loves to teach. Kelly is always expanding her knowledge regarding relationships, spirituality, the human brain, horses and how we connect with ourselves, horses and others. Kelly is an awesome horse woman and person. I highly recommend Kelly if you are looking for a mentor. She is one of a kind for sure." – J. Biggs
Contact Kelly here to schedule a free consultation.